I served in the submarine service from 1961 - 1981. During this time I commanded a diesel-powered submarine HMS Alliance, was Executive Officer (& in-command twice) of the Polaris submarine HMS Repulse, Teacher to the submarine CO's Command Course (Perisher) and commanded a nuclear-powered attack submarine HMS Sceptre.

To know more about what we were engaged in underwater in the Cold War, view this Power Point Presentation


I left the Navy in 1981 to seek broader horizons and worked in industry for over 20 years. Unconstrained by naval discipline and conformity, this broadened my perspective


HMS Repulse - test firing Florida 1973

Brief to the Prime Minister - 10 reasons why more war heads is wrong

The Integrated Review of Security, Defence, Development & Foreign Policy published on 17 March 2020 included an increase in the cap from 180 to 260 Trident warheads. This brief to the PM says why this is wrong. The numbers are also strange. The Dreadnought class can only carry 96 warheads each. 2 subamrines are the most that can be deployed at one on CASD = 192 warheads; so what will the extra 68 be for?

No-First-Use
The organisation Parliamentarians for Nuclear Non-Proiferation (PNND) is conducting a global campaign against First Use of nuclear weapons. My contribution to an international seminar can be found HERE

Why Trident?
Is published by Spokesman Books (the publishing arm of The Bertrand Russell Peace Foundation). It is a compendium of my previously published articles together with information from this website and other sources. Click on the cover below to order a copy at the discounted price of £5.99 + £1 pp and click HERE to read the covering letter From the Author.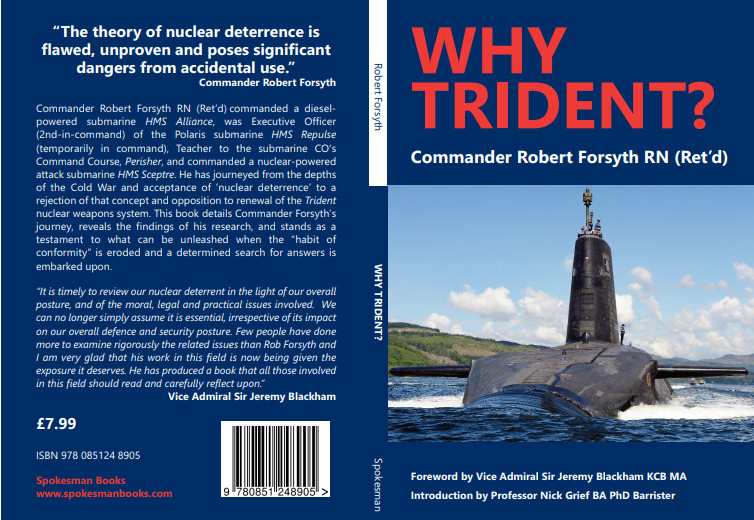 Your questions answered

This section contains answers to a number of questions surrounding the UK's use of the Trident nuclear weapon system.

Still more reading...
...is contained in this section The Archbishop of York's (Stephen Cottrell) address to the Church Synod in July 2018 (when he was still the Bishop Of Chelmsford) is particularly relevant. It made a major contribution to ending years of ambivalence by the Church of England on nuclear weapons.

Contact details