I served in the submarine service from 1961 - 1981. During this time I commanded a diesel-powered submarine HMS Alliance, was Executive Officer (& temporarily in command twice) of the Polaris submarine HMS Repulse, Teacher (CO) of the submarine CO's Command Course (Perisher) and commanded a nuclear-powered attack submarine HMS Sceptre.

To know more about what we were engaged in underwater in the Cold War, view this Power Point Presentation


I left the Navy in 1981 to seek broader horizons and worked in industry for over 20 years. Unconstrained by naval discipline and conformity, this broadened my perspective


HMS Repulse - test firing Florida 1973

No First Use

The failure of US/UK intelligence to anticipate the Taliban's rapid take-over of Afghanistan is a humanitarian disaster. Following similar failures of intelligence in Iraq (2003) and again in Libya post the 2011 uprising, it is a cause for considerably more concern than meets the eye. The UK policy of 'deliberate ambiguity' for the use of Trident nuclear weapons announced in the recent Integrated Defence Review (Global Britain in a Competitive Age) espouses the first use of nuclear weapons to pre-empt any perceived - i.e. intelligence based - existential threat to UK interests at home or overseas. While UK/US clearly needs to up their intelligence games, they also need to recognise the underlying fallibility of intelligence and abandon any suggestion of First Use (ideally any use) of nuclear weapons. The consequences of nuclear weapons fired in error would be unimaginable.
My contribution to an international seminar on No First Use held in July 2021 can be found HERE. Other contributions to the debate can be found on the website of No First Use Global
This question was prompted by an article by Angela Woodward (Disarmament and Secuity Centre, NZ) writing of her concerns about US President Trump's mental instability post his election defeat and points out that UK has no safeguard against a rogue/demented Prime Minister's finger on the nuclear button.

Why Trident?
Published by Spokesman Books (the publishing arm of The Bertrand Russell Peace Foundation). It is a compendium of my previously published articles together with information from this website and other sources. Click on the cover below to order a copy at the discounted price of £5.99 + £1 pp and click HERE to read the covering letter From the Author.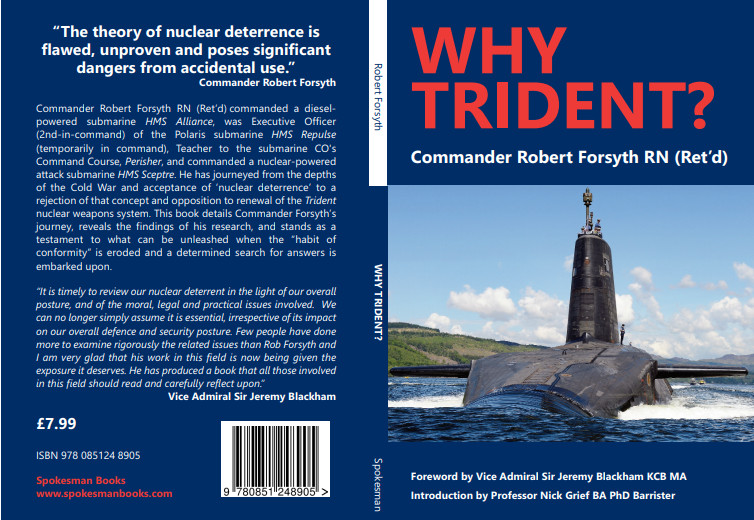 Your questions answered

This section contains answers to a number of questions surrounding the UK's use of the Trident nuclear weapon system.

Still more reading...
...is contained in this section The Archbishop of York's (Stephen Cottrell) address to the Church Synod in July 2018 (when he was still the Bishop Of Chelmsford) is particularly relevant. It made a major contribution to ending years of ambivalence by the Church of England on nuclear weapons.

Contact details